Just as the Food Trucks are the new novelty for eating, the SWAG truck is the NEW trend in gifting. The brainchild of Hollywood Swag Bag.
Online PR News – 08-February-2013 –Beyonce, Neyo, and all of the Grammy Nominees will receive tons of SWAG delivered with Hollywood Swag Bag's new Swag Truck. HSB will also be taking part in the KIIS FM Gift lounge today. Artists will be encouraged to give back by tweeting @SwagGivesBack. Proceeds will benefit their charity of choice.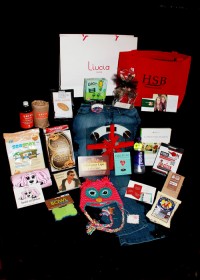 Win one of these fantastic bags by following us on Twitter @SwagGivesBack. A winner will be picked at random on February 13, 2013. (certain items may be substituted due to availability)
The luxurious bag includes:
Liucia Japan is offering gift certificates to redeem a luxurious leather purse. Rock Bottom Jeans have created custom jeans for Taylor Swift and Katy Perry.
Dr Don Stokes is gifting a non-invasive, painless Lila Body Contouring,Strawberry Laser Lipo, to help celeb's look thinner with each visit. The Fresh Diet will deliver fresh meals to the nominee's homes for an entire week. Quest Nutrition Protein Bars are the first energy bar that is guilt free. Sweet Megan also offers a guilt free spoonful truffle that is gluten free, dairy free and soy free and still tastes amazing!
Stay in shape with FEWDM Rock 360 Rolling Core Kinetics. Penta Water will ensure pure hydration.
Win one of these fantastic bags by following us on Twitter
HorseFeathers Gifts have created a gorgeous wrap silk bracelet with music symbol.
G-Dot Creations is gifting a gorgeous pink leather bracelet to all of the nominees.
Puppy Luv Glam has created Swarovski crystal adorned shirts for the occasion. The Doggie Bowl Sponge is another favorite of pet lovers.
Nancy Dreyfus, Psy.D. can repair a relationship in a "flash" with her Talk To Me Like I'm Someone You Love Flash Cards.
Food Should Taste Good's Sweet Potato Chips are the perfect snack for Grammy Nominees. GoGo Sqeez is another healthy option for busy artists on the go. SeaSnax Seaweed Snacks is a favorite among celebrities. Pirates Booty is another healthy snack option.
Hooked by Ima has created custom hand crocheted hats for each individual nominee.
Matthew Shultz Music is the featured CD in the bag. David's Coffee and Coffee Break Café will keep everyone caffeinated during the festivities!
Hollywood Swag Bag is a Hollywood Baskets Company and prepares celebrity gift bags for red carpet and charity events.
1-800-379-8219
Hollywood Baskets is not in any way associated with The Grammy Awards
Press inquiries may be directed to lisa(at)hollywoodswagbag(dot)com
About [Hollywood Swag Bag]
Hollywood Swag Bag is a company devoted to the charitable aspect of gifting.
The company retains a "ONE for ONE motto. For every celebrity that receives a Hollywood Swag Gift Bag or Baby Basket, Hollywood Swag Bag will gift a person in need.
This motto has resonated with celebrities in Hollywood who want to be part of giving back.
Clients include Starbucks, The Fresh Diet, Capitol Records, Viacord, Deepak Chopra, Burt's Bees, Larabar, Norelco, The Hatchette Book Group, Vita Coco, Big Buddha, Bliss Spa, Obagi Skincare, Republic of Teas, Incipio and many more.
Hollywood Swag Bag works exclusively with The Four Seasons Hotels, Young Hollywood Studios, and Fortune Magazine's Top 40 Under 40 and only gift a-list celebrities.
Hollywood Swag Bags have been featured in People Magazine, CNN, EXTRA!, KTLA, KCAL9, Clear Channel Radio and more.
Baby Gifts are sent to clients who are New Celebrity Baby Mommies. For each celebrity baby gift sent, Hollywood Swag Bags also allow the celebrity to interact and gift a woman in need with a care package of newborn necessities.
The Hollywood Swag Bag motto:
It is always better to GIVE than to Receive.