It is better to give than to receive. Golden Globe Awards Nominees will GIVE BACK by tweeting Hollywood Swag Bag, launching the most exciting pay it forward yet. Read more for details on winning a bag.
Online PR News – 22-February-2013 –The Oscar nominees will receive tons of SWAG at a top secret location in Los Angeles this weekend. When the celebrities acknowledge the gifts by Tweeting, Hollywood Swag Bag will auction off SWAG and proceeds will benefit the celebrities' charity of choice.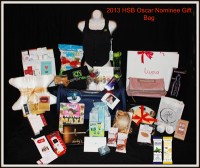 Celebrities will not feel bad to accept luxurious purses by Liucia Japan, or Samsonite Luggage because they know they are doing good in the process. Nominees will also be receiving gift certificates to Heart & Stone Jewelry, Patti Coleman's Wrinkle Prevention Pillow, darby's English toffee and Quest Nutrition Protein Bars. Rebel Leather is adding their gorgeous bling cuff bracelets.
Other gifts inside the bag include a 7 day healthy eating meal delivery service by The Fresh Diet, and Capo-Nata Apparel Sports Bra and T-shirt. Nancy Dreyfus's Talk to Me Like You Love Me Relationship Flash Cards will repair relationships in a flash.
A favorite among the nominees is Moor Skin Care and FiaFini Skin Care who are offering their top products.
Sweet Megan creates the most amazing gluten, dairy and soy free truffles. Coffee Break café is including their signature coffee.
SpareOne is including their Emergency Cell Phones, Penta Water will keep celebrities' thirst quenched, Food Should Taste Good is adding its signature Sweet Potato Chips, and Lisa Lillien is including here coveted recipe book Hungry Girl to the MAX. Homemade Confections is adding some sweet treats all the way from Medford Oregon.
"You too can win one of these fantastic bags by following us on Twitter @SwagGivesBack"
The STRAWBERRY laser lipo gift certificate will insure fast inch loss with its cutting edge cold laser. Snowy Owl Cove will include a box full of natural skin and body care products. The tini beauty lounge are adding their cocktail inspired cosmetics.
Angel Delivery is launching their Care Package line for all of the nominees. Energy X The Juice will ensure nominees are able to have the energy to get through the festivities of the night. GoGo SqueeZ is sending their amazing product for celebs on the go.
Starbars are adding their raw superfood bars that revolutionize the concept of snacking. Seasnax are offering their line of amazing seaweed snacks and Sante' Nuts are adding their yummy flavored nuts for all of the nominees.
B & E Soap and Scrub Company is adding their fantastic body scrubs.
Win one of these fantastic bags by following us on Twitter @SwagGivesBack. A winner will be picked at random on February 24, 2013.