Online PR News – 08-August-2013 –Over 100 Teen Choice nominees will receive some fun Teen inspired Swag delivered direct from Hollywood Swag Bag, a premier gifting company in Los Angeles. When the celebrities acknowledge the gifts by Tweeting, Hollywood Swag Bag will auction off SWAG and proceeds will benefit the celebrities' charity of choice. Teen nominees are asked to tweet their favorite swag item.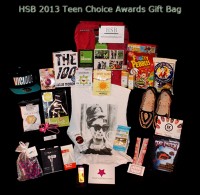 ADK Packworks has donated "The Grocer Tote" for each nominee. Their eco-friendly tote was perfectly timed for grocery shopping, now that bags must be purchased. Will The Grocer Tote be empty? No way! Post Brands Fruity Pebbles, Pirates Booty and General Mills Food Should Taste Good Multigrain Chips, SeaSnax and Justin's Organic Peanut Butter Cups will also be included.
Hollywood Swag Bag loves including products with a cause.
Ix Style Woven Leather Sandals is a cool new brand. They donate 15% of its profits to charity: water on a quarterly basis.
Another company that donates proceeds is Pasteline Perfume in a tube. 10% of their proceeds benefit animal rescue organizations. Pasteline Perfume is vegan—no animal ingredients, byproducts or testing.
Teens are always very concerned about their skin. Burt's Bees Natural Acne Solutions Cleanser and Targeted Spot Treatment will help keep acne at bay. TruYu Skincare is adding On The Go Wipe Away Cleanser. No water needed, so nominees can go ahead and sweat the small stuff.
"Hollywood Swag Bag loves including products with a cause."
Powbab Superfood Chews will offer immunity strength in the most natural form, from the Baobab tree. Music Artist Kwanza Jones has added her VICIOUS Snapback hat a favorite among her teen fans. Speaking of music, everyone loves MagBuds – earbuds with a magnetic, wrappable cable. This cable allows you to wrap the earbud around your wrist, perfect for the summer when you're at the beach and don't have pockets.
Protection at the beach during the summer is ultra important. Sunny BeadZ will insure nominees do not burn. Sunny BeadZ – Ultraviolet Light detection beads change color instantly in the sun to alert the use of harmful UV rays, the stronger the rays, the deeper the sunbeads color
The Tat Patch makes holey jeans cooler with no sewing and no ironing! Glitz and Grime, A creative cartel out to destroy convention and attack all senses has created custom t-shirts for each nominee. The bra-Zing is a bra-volution! Sassy to classy in seconds! The most innovative bra strap cover coveted by all the celebs in Hollywood. bra-Zing Creator Bethan Davies has also created TheCraftStar www.thecraftstar.com, The best marketplace to buy, sell and discover unique handmade crafts and vintage items, gifts and products.
After all the cool fashion the nominees will receive. It is just fitting that they use their Lulu Hair Chalk. It is the easiest way to add temporary color to hair. SoCal Curls will create beachy waves without any damage.
Another perk of being famous is that nominees will be the first to read the new highly anticipated mystery The 100 by Kass Morgan. The book will hit shelves on September 3, 2013.
Waldo, Sluggo & ME has created a custom Teen Choice Awards Good VooDoo Doll so nominees can pin and send good thoughts to their competitors! The novelty gift item is the solution to fill the gap between a card and a traditional gift. The Teen Choice Awards will broadcast on August 11, 2013 on FOX.
Win one of these fantastic bags by following us on Twitter @SwagGivesBack. A winner will be picked at random on August 11, 2013 following the broadcast.