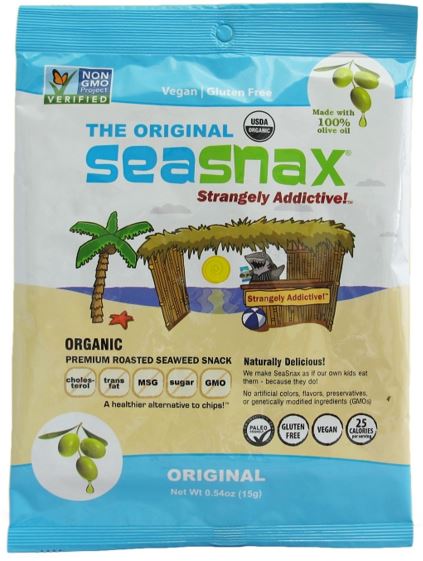 SeaSnax is an award winning premium roasted seaweed snack for the entire family,  They begin with sustainably-grown organic seaweed and roast it to perfection with just a touch of organic extra virgin olive oil and a pinch of sea salt.
With 25 calories per serving, SeaSnax is a healthier alternative to chips to satisfy that craving in between meals, and a convenient way to add sea vegetables to a healthy eating lifestyle.
There are no artificial colors, flavors, preservatives or genetically modified ingredients (GMOs). And since SeaSnax is made from seaweed it is high in vitamins (B1, B6, C), vegetable protein, fiber, iron and other minerals and trace elements necessary to maintain good health. Best of all, SeaSnax is a low fat, cholesterol and sugar free, crunchy and delicious snack enjoyed by adults and kids alike. So dump the chips, and snack on with SeaSnax!
The Original Single pack includes 5 sheets of roasted seaweed – rip'em up and chomp'em down! Or if you like them in neat small squares, take an unopened package and fold the whole package in half, pressing down on the fold, and then half again. Open the bag, and you are set to eat! Can't finish it all? Put them in a sealed ziploc or container and throw it in the fridge!
Enjoy SeaSnax wrapped around rice or other cooked grains, in your favorite soup, salad or sandwich, as a pizza topping – or just right out of the bag!