For years Hollywood Baskets featured Barbara and Roy Orbison Swag to nominees for various awards shows. This year Hollywood Swag Bag will honor Orbison's memory and donate proceeds to the Pancreatic Cancer Action Network for each CMA nominee who tweets HSB.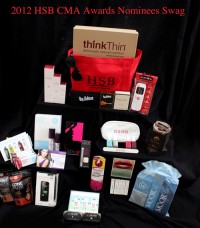 Online PR News – 31-October-2012 –The 2012 CMA Awards are a time for celebration. Hollywood Baskets wants to celebrate and honor the memory of Barbara Orbison, the late widow of Roy Orbison. Barbara passed away from Pancreatic Cancer on December 6, 2011. "For each CMA nominee that tweets www.twitter.com/SwagGivesBack, we will donate a gift bag proceeds to the Pancreatic Cancer Action Network," says Lisa Gal, owner of Hollywood Baskets.
The CMA Awards will take place on November 1, 2012. All of the nominees will received the coveted Swag, including Barbara Orbision's Pretty Woman Perfume and Roy Orbison's signature wayfarer sunglasses.
           "We will donate gift bag proceeds to the Pancreatic Cancer Action Network."
Other amazing items included in Hollywood Swag Bag Gift bags are Think Thin Bars by Think Products, FiaFini Skincare, Spare One Emergency Cell Phones, Blue Print Bars, Lashem Eye Lash Gel, Essie Nail Polish Kits, Alueur Luxury Pumpkin Spice Candles, Resvology Skincare, Incipio Offgrid for the iphone, Every Drop Beauty Spatula, Living Intentions Gone Nuts in Cajun and Teriyaki Flavors, Liptini Lipsticks, Judith Raye custom art designed notecards, Moor Skincare, and BLINGUARD.
Hollywood Baskets prepares celebrity gift bags and gifts for many of the top award shows in Los Angeles. 1-800-379-8219
Hollywood Baskets, Hollywood Swag Bag is not in any way associated with The Academy of Country Music.
Press inquiries may be directed to lisagalbianchi@gmail.com