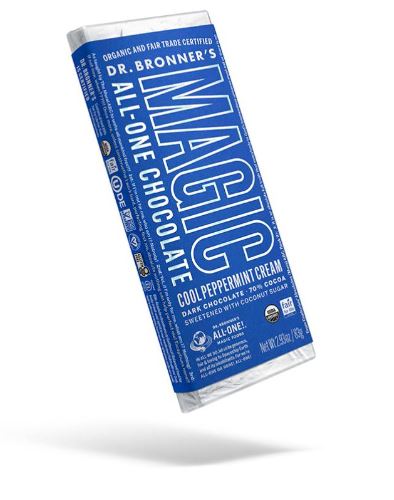 by Lisa Gal
Dr. Bronner's, the family-owned maker of the top-selling natural brand of soap in North America, has launched a new flavor of its decadent and delicious 70% dark Magic All-One Chocolate. The latest offering—Cool Peppermint Cream—delivers a lively, lightly sweet mint taste alongside a decadent cocoa experience featuring a unique blend of cocoa from Ghana and Ivory Coast, Regenerative Organic Certified™ (ROC™) coconut sugar from Indonesia, (ROC™) cocoa butter from Congo, and bourbon vanilla from Madagascar. Dr. Bronner's Magic All-One Chocolate in Cool Peppermint Cream flavor seeks to honor the company's legacy of peppermint products.
All of Dr. Bronner's chocolate, now available in seven flavors, is made from cocoa beans grown using regenerative organic farming practices that have lasting positive impacts on farmers, their communities, and the land. Cool Peppermint Cream will be available at retailers nationwide and online starting in fall 2022 with the MSRP of $5.49 each, alongside the original six flavors of Dr. Bronner's Magic All-One Chocolate. For more information, go to: https://www.drbronner.com/pages/magic-all-one-chocolate.
We are thrilled to announce the participation of Dr. Bronner's in the 2023 Hollywood Swag Bags honoring Oscar nominees for Hollywood's biggest night!