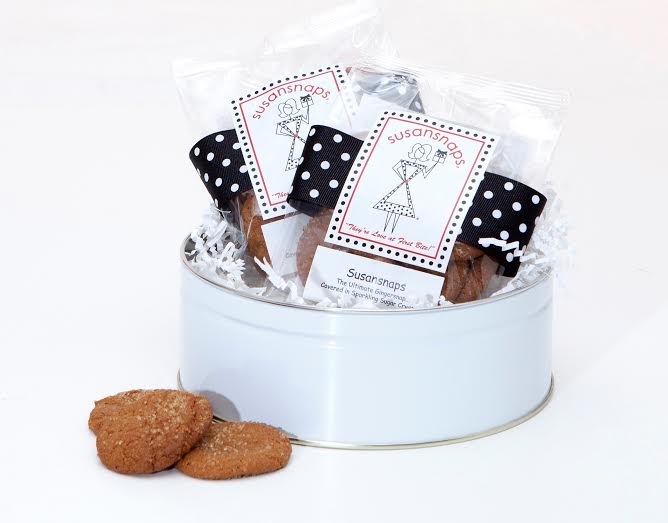 Susansnaps are the ultimate gourmet gingersnap cookies filled with deep, dark molasses, the perfect blend of spices, and topped in sparkling sugar crystals giving just the right snap!  Susansnaps were created as a labor of love after Laura watched her husband and daughter, Susan (named for Laura's sister Sue who died from cancer) undergo chemo within the same year. Ginger is a stomach soother and cookies always bring smiles.  What started as a little idea to bake a few cookies out of the family garage has turned into this mom-daughter duo running the only gourmet gingersnap cookie company in the country. They're cranking out up to 10,000 fresh baked gingersnaps daily…now, that's a lot of smiles.
These heavenly gingersnaps and unique mom-daughter entrepreneurs have gained the attention of The Today Show, O Magazine, and ABC World News Tonight with David Muir.  With scrumptious cookies, fancy packaging, and their sweet back story, Susansnaps are distinctively one-of-a-kind.
These decadent cookies  will soon grace the Four Seasons Hotel Gift Bag to honor SAG Award Nominees and talent. Enjoy!